Looking for a special gift for your partner but have no idea what to choose? Why not surprise him/her with a unique and romantic experience that you will never forget: a love boat tour!
Our tour is designed to make your time together magical and unforgettable, with a focus on the beauty of the landscape and creating a romantic atmosphere. During the tour, you will visit the sea caves of Vieste, starting at sunset, when the golden light of the sun creates a unique and romantic atmosphere.
Afterwards, the boat will stop at a secluded bay where you can enjoy a delicious aperitif and toast to your love while admiring the sunset over the sea. You will never forget this unforgettable moment.
Moreover, to immortalise these unique moments we will be on hand to take an instant souvenir photo, so that you can relive this experience every time you look at it.
Giving the gift of a love boat tour is an original and romantic idea that will leave your partner speechless. Book now and treat yourself and your loved one to an unforgettable experience!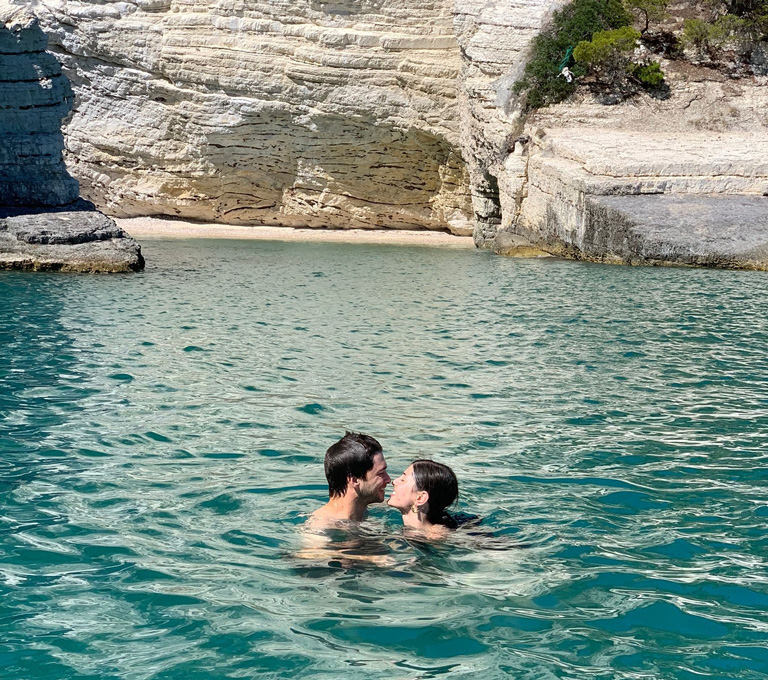 Information
DEPARTURE FROM THE PORT OF VIESTE: departure at sunset
THE EXCURSION INCLUDES: boat rental, aperitif, skipper and fuel
BOOK YOUR EXCURSION ONLINE
*Mandatory data, you will be contacted by phone for booking confirmation.
 

 

 

   

 

  

 

 

 

  

  

  

Perfetto!
Wir hatten einen super Tag auf dem Boot mit unseren Kindern! Ein top Service und ein gutes Preis-Leistungsverhältnis.

  

 

  

 

 

 

  

  

  

Captain Mikele's cave tour in Vieste
We toured the caves around Vieste with Captain Mikele. It was magnificent. Mikele's English is great, we comunicated by whatsup very easily and the ride was great. Mikele was punctual and made us feel safe. I recomend his service.

  

 

  

 

 

 

  

  

  

Piacevole scoperta a Vieste
Abbiamo fatto un'escursione in barca e, che dire, panorami e mare maravigliosi e Michele uno skipper TOP!!! Super disponibile, simpaticissimo e ci ha dato tanti consigli per vivere al meglio questa nostra breve vacanza a Vieste. Consiglio a tutti un giro in barca con lui! Un saluto da un gruppo "speciale": Italia, Vietnam, Irlanda e Portogallo!

  

 

  

 

 

 

  

  

  

Grotte del Gargano a portata di mano
Abbiamo effettuato questa bella escursione con Michele, persona preparata e molto disponibile, un vero "super skipper" Le grotte sono a portata di mano, e Michele e' un vero pilota marino. Se vi trovate in zona non perdete tempo contattatelo subito! Marina

  

 

  

 

 

 

  

  

  

Escursione Fantastica
Grande Michele. Per noi era la prima volta, cordialità, competenza e bravura, ci siamo sentiti tra amici. Grazie ancora.

  

 

  

 

 

 

  

  

  

Enjoys every minute of it
Thank you Rocko the Viking (not sure About apelling..) - wonderful ríše - you have been right - you are a very good driver! Very pleasant ride to beautiful places - worth the while as well as the money.

  

 

  

 

 

 

  

 

 

 Adventure17514010609 

 

02/09/2023

 

 

  

Imperdibile a Vieste
Consigliatissimo, il modo migliore per esplorare la meravigliosa costa garganica con le sue baie e le grotte visitabili solo dal mare e con imbarcazioni non grandi. Giornata perfetta, noleggio gommone e motoscafi con skipper (o senza), grande gentilezza, professionalità, esperienza e disponibilità alla personalizzazione del tour ove possibile. Bravo Michele!

  

 

  

 

 

 

  

  

  

Un'altra Vieste
Sei amici friulani, lontani dalle loro cime ma ugualmente a casa grazie alla professionalità e disponibilità di Michele. Vieste vista dal mare è davvero incredibile, inoltre ogni cosa acquista un valore aggiunto grazie alla profonda conoscenza del territorio di chi qui è nato e ha sempre vissuto.

  

 

  

 

 

 

  

  

  

Esperienza meravigliosa!
Gita in barca spettacolare, grazie Michele per il bellissimo giro, per la tua cortesia e i tuoi racconti. Il panorama è mozzafiato, assolutamente da rifare!! Grazie anche a Michele che è riuscito a trovare il posto per farci partire al mattino presto, siete stati tutti magnifici.

  

 

  

 

 

 

  

  

  

Esperienza da non perdere.
Michele è disponibile e molto competente. Siamo stati su una delle sue imbarcazioni con amici e abbiamo visitato tantissime grotte una più bella dell'altra. Ci siamo divertiti tantissimo e abbiamo fatto un bel bagno e raggiunto la spiaggia di una caletta molto particolare. Grazie Michele. Consigliatissimo, soldi ben spesi.